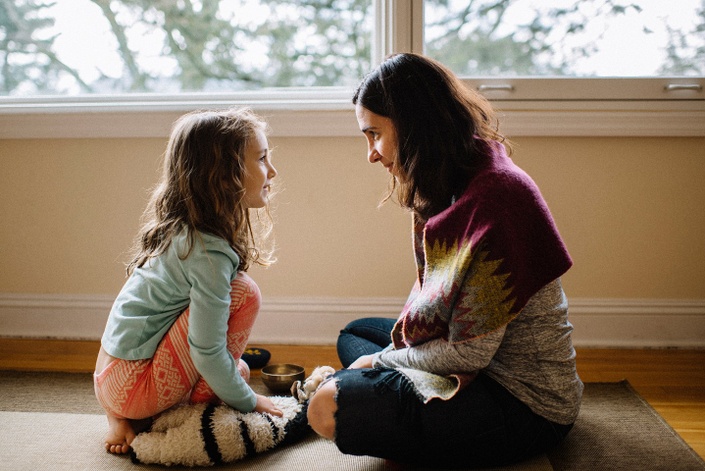 Mindful and Strong Coaching Package for Families and Kids
Where Children Find Their Happy
Enroll in Course
Mindful and Strong Coaching Packages for Families and Kids

Help your kids handle their emotions healthily
So they can become calmer, more resilient, and confident
Sign up for one-on-one coaching sessions to make your child feel less stressed and your family function better.
____________________________________________________________________________
What tool can make the difference between your child not knowing how to cope with strong emotions, and your child feeling grounded, strong, and at ease?
One word for you -- MINDFULNESS..
____________________________________________________________________________
When your kid is unhappy, everyone suffers.
Your child may not know how to explain what they're feeling... and they also probably don't know how to respond to their feelings productively.
Instead, they often behave in ways that make the situation harder.
Temper tantrums. Night terrors. Separation anxiety. Difficulty sleeping. Not wanting to go to school. Not communicating. Issues around eating. Feelings of inadequacy. Acting out. Crying.
As a parent, you know your job is to show them a better way of coping with their feelings.
Only problem is, you have no idea how to do that.
____________________________________________________________________________
What you want is a solution that not only helps your child, but that gives you both a toolkit to draw on in times of stress, tension, or high emotion.
You want to know how to comfort your child, and for them to learn the emotional skills they need to go into the world and thrive.
(And you DON'T want to stay stuck in a cycle where you feel guilty and inadequate as a parent, constantly worry about your kid, and are always trawling through parenting books and Facebook groups desperately searching for a solution to this…)
Basically, you want your child to feel healthy and happy.
And you'd love for your family to be more close-knit and joyful.
____________________________________________________________________________
Hi, I'm Angie Harris. I'm a down-to-earth mindfulness coach, meditation practitioner, and children's author, who's ready to meet your family exactly where you're at.
I'm a nature lovin' mama with a big laugh and warm personality, straight from the Jersey Shore, and I've spent over 7 years coaching thousands of children and adults in 1:1 sessions, in-person workshops, and online.
I take families from stressed out to chilled out, and turn raging emotions into feelings of strength and calm. I'd love to do the same for you.
____________________________________________________________________________
All Mindful and Strong Coaching Packages are designed to:
Stop your child from feeling overwhelmed and help them get a better handle on their feelings
Leave children better equipped to concentrate and enjoy themselves at school
Help participants be kinder to others and also -- crucially -- to themselves
Prevent negative thoughts and stress patterns from spiraling and becoming constant
Release families from the feeling that they have to be constantly "doing", and enable them to relax and enjoy the present moment
____________________________________________________________________________
What you get with each Mindful and Strong Coaching Package:

Personalized 1:1 Sessions
The full Mindful and Strong Coaching Curriculum includes eight 25-minute-long coaching sessions, spread out over a total of 8 weeks. (Starter packages with fewer sessions are also available).
Each session will actively engage your child by teaching them mindfulness and meditation practices they can easily work into their everyday routine, so they know how to reassure and comfort themselves in times of anxiety, worry or anger.
Children can participate in sessions alone or with siblings, and all ages from Pre-K to college age are welcome. I recommend that a care taking adult actively participate in all sessions, so the adult can model the mindfulness practices taught to the child in between coaching sessions.
Follow-up Support
Each week, your child will receive follow-up activities specially designed to help them achieve the goals that are most important to them and to your family.
With personalized guided meditations, mindful movement exercises, drawing and writing activities, and other specific exercises, they'll have the support they need to transition out of negative behavior patterns and handle strong emotions more healthily.
Each session will build on the last to leave not just your child but your entire family feeling more in control when faced with difficult situations, and more able to take pleasure in joyful moments.
____________________________________________________________________________
Interested in a coaching package? Great! Here's what to do next:
Step 1: Hit the "Sign us up!" button to choose the length of your package and submit payment.
Step 2: I'll be in touch within 24 hours with your intake documentation and to schedule your first session.
Got questions? Shoot me an email at [email protected].
____________________________________________________________________________
"After purchasing Mad to Glad I reached out to Angie for private mindfulness coaching for my 6 year old daughter. They met for 2 months, for only 15 minutes each. The results were long lasting and palpable. I still see my daughter using the practices she learned to calm down. I am so happy to know she has a connection to her OWN internal coping strategies! I believe it is the simple language Angie uses, that is also designed to very intentionally help children understand that they can control their lives, mindfully. This simple, but deliberate way, helps them connect their problems to simple solutions, which instantly makes them very excited and empowered. Once they understand they can take charge of their emotions, they start feeling self-control, kindness and understanding to themselves and others. Even I use some of the simple tools to help myself take charge of my emotions, and I am a grown up :) "
— Biliana Coleman, Owner, The Grateful Tea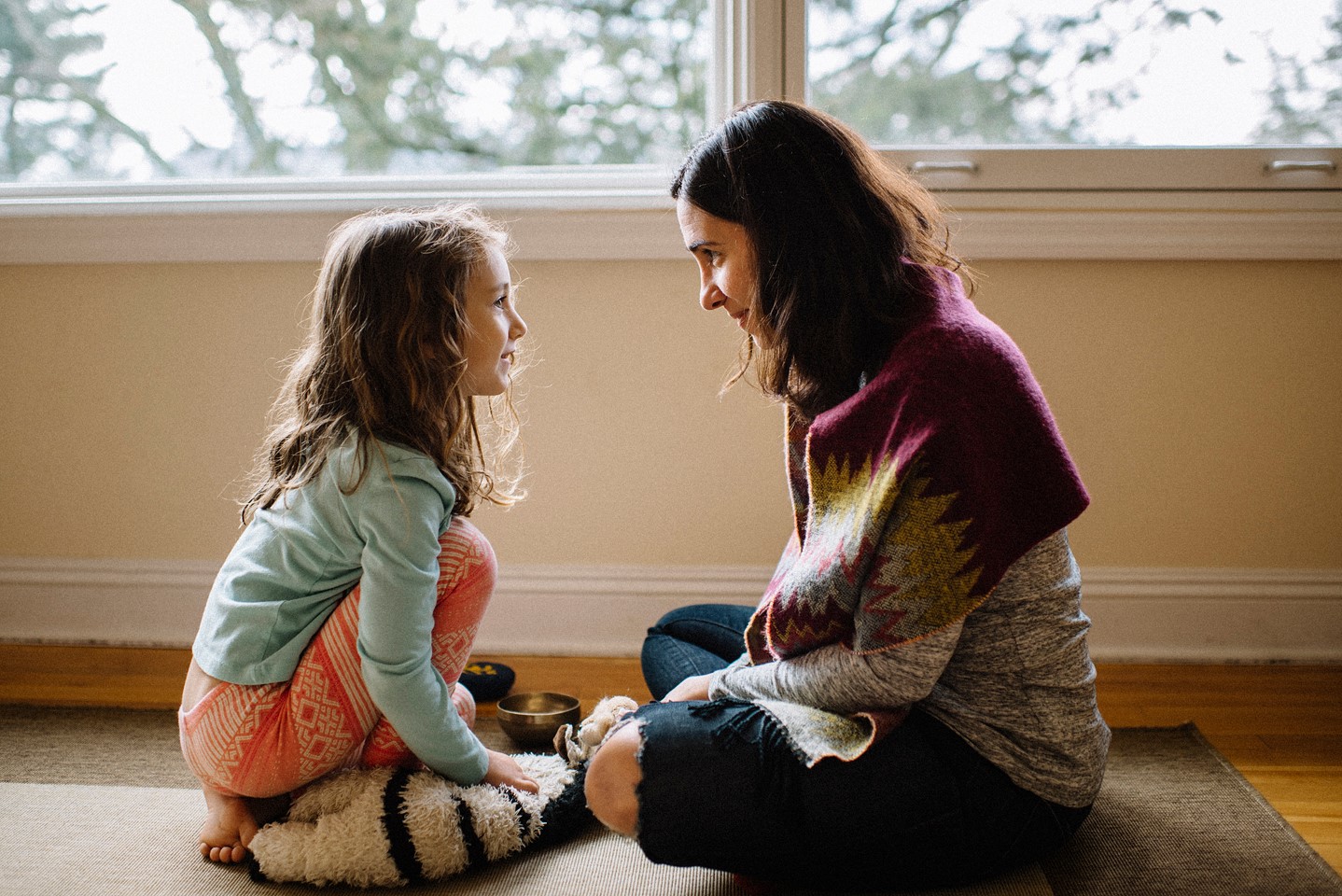 All classes are accessed via video chat from your mobile device
Your Instructor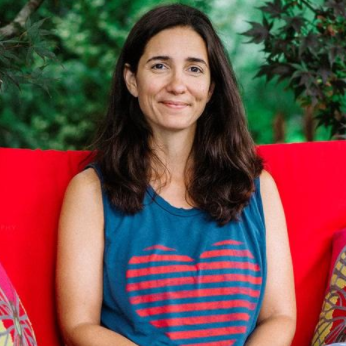 HOW I GOT HERE
I've practiced mindfulness and meditation for almost 20 years, after first being introduced to them when I was 19 and lost my mother.
Initially, I saw them as tools I could use to temporarily manage my grief. But I quickly became drawn to them on a deeper level too.
I started doing yoga, taking time out to sit still, and reading about contemplative practice and its spiritual roots. Not only did I get a handle on my emotions, but I managed to stay in college and stay grateful for all the joyous things in my life too.
Years later, another personal tragedy took me from practicing mindfulness to teaching it.
In 2010, my sister was diagnosed with terminal cancer. At the time she had three young children, aged six, three, and one. I looked at those kids and knew that I wanted to teach them the meditation and mindfulness strategies that had been such game-changers for me when I lost my mom.
So I began researching how to teach young children to meditate.
I came across a school in California that was offering a training in Rhinebeck, New York, at the Omega Institute. Using that training, together with my years of personal experience, I created a curriculum and began teaching my niece and nephews the mindfulness work that had helped me so much.
Soon after, I got a call from the director of their school. She asked me, "What are the children learning? I want to know what's happening with them. They're taking time out for themselves when their emotions get too strong… Who's teaching them how to do this?"
When I told her, she asked me if I could teach other children in the school how to use mindfulness to manage their emotions too.
And quickly, that one class turned into multiple classes at multiple schools, as parents who were impressed by the results of my teaching suggested that I teach at other schools and work with their families privately.
Teaching mindfulness took on a life of its own, even as practicing it enabled our family not to be overwhelmed by feelings of grief.
Because every moment has room for joy and suffering, and it's important not to let the suffering block out the joy.
And today, when I'm not teaching mindfulness, I'm lucky enough to experience plenty of joy.
I can usually be found in a rink or on a field, watching my favorite eight kids -- my two awesome sons, and six nieces and nephews -- playing everything from hockey to ballet, football to piano.
I love being outside, watching my kids play with a cup of hot tea in my hand. I love all things about the ocean, including attempting to do yoga on my paddleboard. (Yes, I fall off pretty much every time, and I keep going back for more!)
I love to laugh A LOT, and at least twice a week at home, my husband and I blast our favorite music as we try to make Italian food like my 4'11" nanny made it when I was growing up (though we never 100% manage it)!
Now that I'm a mom myself, I especially love supporting other moms and their kids in this happy, busy journey called parenting.
I've been blessed to work with families and kids from all over the world through mindfulness teaching, and I learn from the collective mama-hood every time I teach.
Want to work with me? Here's how.
Course Curriculum
Welcome
Available in days
days after you enroll
Frequently Asked Questions
When does the course start and finish?
The course starts now and never ends! It is a completely self-paced online course - you decide when you start and when you finish.
How long do I have access to the course?
How does lifetime access sound? After enrolling, you have unlimited access to this course for as long as you like - across any and all devices you own.
What if I am unhappy with the course?
We would never want you to be unhappy! If you are unsatisfied with your purchase, contact us in the first 7 days and we will discuss how to make mindfulness work for you.